Make Your Repair Count with Genuine Ford Parts From Our Parts Center in Moncks Corner, SC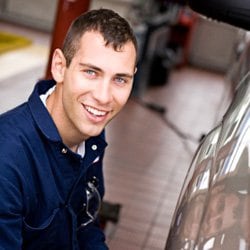 There are few things more satisfying than working on your own Ford. Who doesn't love the excitement of popping the hood, and the feeling of a job well done? Berkeley Ford wants to help Moncks Corner drivers with their do-it-yourself repairs by offering genuine Ford parts from our Parts Center. Make your repair count with genuine Ford parts!
Why Should You Use Genuine Ford Parts in Moncks Corner, SC?
Why should you use genuine Ford parts instead of aftermarkets? We'll give you four reasons:
Quality: When you order aftermarket parts, the quality can be a surprise. But when you use genuine Ford parts, you can be certain that they're as high quality as your Ford vehicle itself. Why? Because they're factory grade and engineered specifically for your Ford.
Longevity: Higher quality parts also means longer lasting parts. Genuine Ford parts will last longer and keep you on the road with less hassle!
Savings: When parts last longer, it means you won't have to do as many repairs in the future. And that means long-term savings. Genuine Ford parts will help you save money down the road.
Support: Have questions? Berkeley Ford has a knowledgeable team ready to answer them, and help you find the perfect genuine Ford part for any repair.